Fleetwood's Heating and Cooling offers a wide range of heating and cooling equipment at wholesale pricing .Our knowledgeable staff has over 30 years of experience in the HVAC field. Please call our store at (269) 521-3382 or stop by to visit our showroom located at: 25512 County Road 665 in Bloomingdale, MI.
Find the Right Equipment
Use the Opcost Efficiency Finder below to estimate the savings of a new heater or air conditioner. Try the equipment Size Finder below to help determine the correct heater and/or air conditioner for your particular home, based on geographical location and square footage.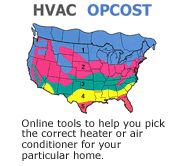 Equipment Size Finder - Estimate equipment size needs based on your location and home's square footage.

Efficiency Finder - Heating and cooling cost price comparison of old/new equipment.